Movie Reviews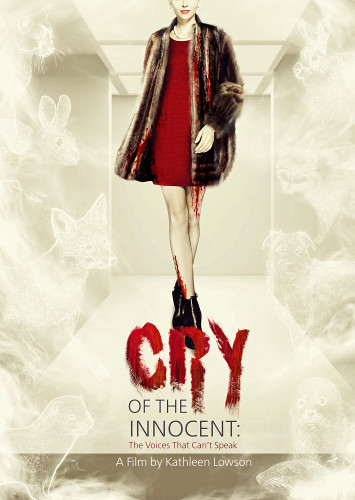 "A revealing film explores the psychological and spiritual factors that contribute to animal cruelty in the fur industry.  Rather than merely covering tales of brutality, Cry of the Innocent: The Voices That Can't Speak interprets from the "soul perspective" in an attempt to explore the underlying source of animal abuse and the subsequent disconnection in society. As the Director has stated: "The power of respect will change our world" – respect for ourselves and respect for life." – National Geographic
"The innocent in the title of the movie are the estimated 75 million animals that are slaughtered annually for their fur for the sake of fashion… the Director takes the more sensitive road in an effort to bring attention to what she believes are the deeper implications of the killing of animals for fur." – Chicago Examiner
"The time to evolve our consciousness is now.  Cry of the Innocent: The Voices that Can't Speak is a monumental film and call to action that is a magnificent contribution to the animal rights movement." – Dr. Shenita Etwaroo
"Extraordinary… a brave and vitally important piece of work." – A.M.
"Very tastefully done… gets the point across without turning anyone away." – T.W.
"Much respect to the filmmakers. Think of the impact the documentary "Blackfish" had on SeaWorld. This is an effective way to open the eyes of the world to this. Thank you." – H.C.
"Riveting!!" – D.T. 
"This film is not graphic, but it will touch your soul as not experienced before in Animal Rights activism." – Anti-Fur Society International
"Wow, powerful and gripping!" – J.S.
"This is an amazing film. Very powerful and not graphic. I will share far, wide and repeatedly." – M.D.O. 
"Thank you for sharing this heart-wrenching story. I salute you for your courage in what must have been an enormous emotional effort to produce this film. Each one of us has the power to change this for as little as the click of a button to support these efforts. You cannot walk away from this if you have any conscience." – T.B. "Wildlife Tracks" and "ECO-ED" – Mtubatuba, KZN, RSA
"Wow!!! This is amazing! Really, really good." – T.H.
"Very deeply affecting… and will succeed in raising consciousness. This film is going to be big." – D.D.
"Thank you for a powerful film! You are already making an impact and will be a tremendous benefit to our precious animals and ultimately to us human beings." – Maia Kincaid, Ph.D., The Sedona Telepathic School for Animal Communication
"A documentary unlike any documentaries about cruelty to animals." – M.P.
"Wow! It is really powerful! Very well done!" – J.W.
"Thank you for making it, it is very powerful." – J.T. 
"I have seen some graphic films before and could not watch the whole thing. This film shows how it is not necessary to show all the hideous brutality. The horror is in the animals' eyes and their pain and fear is unbearable. Extremely well made.  I want to see this film shown in every cinema." – C.P.
 "I hope God counted my tears.  This is an excellent film to Truth." – D.C.
"This documentary will enlighten many to the cruel fur trade." – N.S. 
"This film decisively shows that China is not only brilliant in the art of war and culture; but in cruelty and greed. How these companion animals, taught to trust man and look to him for sustenance and protection, are treated is disgusting, archaic and deplorably cruel. It would be banned in most countries as citizens would not tolerate such barbaric treatment of other living creatures." – M.S.
"Thank you for opening our eyes, breaking our hearts open. I will spread the truth wherever possible." – C.G.
"This movie is amazing. Thank you for shedding light on this very dark subject." – L.K.
"Horrah for making this… very well edited ~ Must continue to spread the word." – G.W.
"A step up to get animal rights right and wish it leads to a step down for cruelty. A behind the scenes look at how they are abused, fashion is a strong provider. Let's show how nature holds even more ideal of beauty and it's only weak to destroy it." – Y.B.
"Thank you for all your commitment in making and showing this film. It should be shown all over and as often as possible to get the point across." – A.C.
"The fact that you are doing this work lifted my spirits today." – C.C.
"This story needs to be told. There are so many animals needlessly suffering around the world." – C.C.
"Thank you for helping to end this!" – D.B. 
‪"Glad that there are organizations like you to help animals with no voice. There are too many people out there with no conscience." – J.R. 
"Please support these people making this brave movie!" – B.B. 
‪"This is horrific cruelty. Thank you for building awareness to this gruesome barbarism." – M.W. 
"My compliments!  You made a very clear image of the cruel fur trade, able to see for everybody. I will share it hoping many, many people will watch it." – S.D.M.
"We must bring to light the cruelty that is behind many of the products that we buy. I am so glad that there are caring people out there who are willing to do this." – R.S.
"Thank you for making such an eye opening film. I would not trade the awareness for anything." – M.G.
"I'm so glad there are brave people willing to witness and expose the truth." – A.G.
"The documentary should come out in several languages please, the problem is global." – A.L.
"Brought tears to my eyes. Great film indeed." – H.F.
"This film broke my heart…. just can't think of anything else to think about but the beautiful sounds of those animals." – M.R.
"You people are wonderful for the help you've done and still working hard. Thank you so very much." – T.V.
"Please watch, not at all graphic, just very moving and hopefully mind-changing for those who believe the fur trade is essential." – J.M.
"Please sponsor this important film! Get fur abolished, the more people understand how it is "harvested" they won't be able to buy it. Although never a fan of fur, I had no idea how bad it is for the animals, especially in China where they are skinned ALIVE. I can't even imagine it. Some humans are vile and soulless." – B.P.
"Please watch this film." – T.S.K.
"I hope this will help to show everyone who sees it how cruel this atrocity is. Thank you for making It." – B.G.D.
"Wow! Thank you so much, Kathleen, for this film." – T.L.
"I'm moved to tears by your incisive images and commentary.  Your hauntingly beautiful films are a sad indictment of the world in which we find ourselves living, and the fact that you had to make it at all shows the magnitude of the battle all decent citizens must fight. It's very sad that human beings can bring themselves to commit such vile atrocities in our supposedly enlightened world. It is my sincerest hope that with articulate and intelligent souls like you standing up to be counted we will one day, in the near future, bring an end to such horrors. I wish you all the best with your powerful projects."- Dr. Shenita Etwaroo